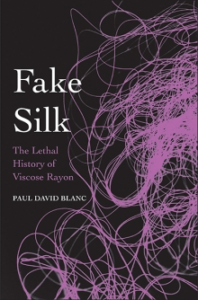 Date: Friday, December 2nd, 2016
Time: 12 pm – 1:15 pm
Lecturer: Paul Blanc, MD, MSPH (UCSF)
Location: Lange Room, 5th Floor, UCSF Library – Parnassus
530 Parnassus Ave, SF, CA 94143
This event is free and open to the public. Light refreshments will be provided.
REGISTRATION REQUIRED: http://calendars.library.ucsf.edu/event/2941746
Join UCSF Archives & Special Collections for an afternoon talk with medical historian and author Paul Blanc MD, MSPH, as he discusses the toxic legacy of viscose rayon portrayed in his new book, Fake Silk. Dr. Blanc poses a basic question: When a new technology makes people ill, how high does the body count have to be before protective steps are taken? His work tells a dark story of hazardous manufacturing, poisonous materials, environmental abuses, political machinations, and economics trumping safety concerns. It explores the century-long history of "fake silk," or cellulose viscose, used to produce such products as rayon textiles and tires, cellophane, and everyday kitchen sponges. His research uncovers the grim history of a product that crippled and even served a death sentence to many industry workers while also releasing toxic carbon disulfide into the environment.
Viscose, an innovative and lucrative product first introduced in the early twentieth century, quickly became a multinational corporate enterprise. Blanc investigates industry practices from the beginning through two highly profitable world wars, the mid-century export of hazardous manufacturing to developing countries, and the current "green-washing" of viscose as an eco-friendly product. This work brings to light an industrial hazard whose egregious history ranks with those of asbestos, lead, and mercury.
Dr. Blanc holds the Endowed Chair in Occupational and Environmental Medicine at the UCSF, where he has been a faculty member since 1988. Blanc received his BA from Goddard College (Plainfield, Vermont), where he first became interested in health and the environment, later training at the Harvard School of Public Health (in industrial hygiene), the Albert Einstein School of Medicine, and Cook County Hospital (in a joint Occupational Medicine and Internal Medicine Residency). He was a Robert Wood Johnson Clinical Scholar at UCSF and later a Fulbright Senior Research Scholar at the Ben Gurion University of the Negev. He also has been a resident scholar at the Rockefeller Bellagio Center (Bellagio, Italy) and the American Academy in Rome. In 2013-4, he was a fellow at the Center for Advanced Studies in the Behavioral Sciences at Stanford University. Blanc is the author of How Everyday Products Make People Sick (University of California Press, 2009) also writes a blog, "Household Hazards," that is hosted by the magazine Psychology Today. Fake Silk: The Lethal History of Viscose Rayon is published by Yale University Press.
UCSF Archives & Special Collections launched this lecture series to introduce a wider community to treasures and collections from its holdings, to provide an opportunity for researchers to discuss how they use this material, and to celebrate clinicians, scientists, and health care professionals who donated their papers to the archives.