To help researchers in finding and understanding how to work with data from archival health sciences collections, we have compiled and published the Archives as Data research guide. "Archives as Data" refers to archival collection materials in digital form that can be shared, accessed, analyzed, and referenced as data. Using digital tools, researchers can work with archives as data to explore and evaluate characteristics of collection materials and analyze trends and connections within and across them.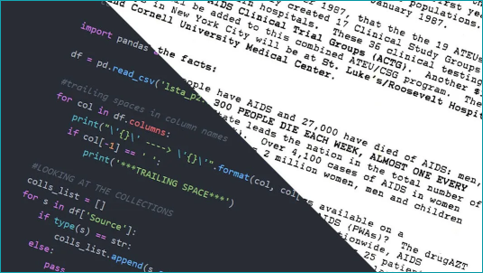 UCSF Archives and Special Collections makes data available from a number of our digital collections. Researchers will find information in the guide about accessing and using such data as well as descriptions of both the form and content this data takes. As well, you'll find a growing set of links to to learning resources about various data analysis methods used to work with archives as data.
This new Archives as Data research guide provides researchers with a centralized resource hub with brief descriptions of collection materials as well as links to the datasets that have been prepared from them, including:
We look forward to updating the guide as more data from UCSF Archives and Special Collections becomes available, and anticipate expanding to include links to "archives as data" of interest for digital health humanities work made available by other institutions and organizations.
To learn more about how we are making archives as data available at UCSF, check out recordings and resources from our recent sessions on Finding and Exploring Archives as Data for Digital Health Humanities!
The Archives as Data Research Guide has been published as part of the UCSF DIgital Health Humanities pilot program. Please reach out to the Digital Health Humanities Program Coordinator Kathryn Stine, at kathryn.stine@ucsf.edu with any questions about DHH at UCSF. The UCSF Digital Health Humanities Pilot is funded by the Academic Senate Chancellor's Fund via the Committee on Library and Scholarly Communication.