UCSF Archives and Special Collections is pleased to announce that three collections have been processed and added to the Tobacco Control Archives. The newly processed collections are the Seth L. Haber Materials, American Heart Association Records, and the Tobacco Control Ephemera Collection.
UCSF has been collecting materials on tobacco control efforts since the 1990s. We have collected papers and organizational records of government agencies and activist groups, as well as papers of individuals active in tobacco control.
Seth L. Haber, MD, FCAP, was the founding chief of pathology at the Kaiser Permanente Medical Center in Santa Clara, California, for 35 years, until his retirement in 1998. He was an elected member of the Permanente Medical Group Board of Directors for nine years,
registrar, sommelier, and president of the South Bay Pathology Society. This collection includes publications by Seth Haber, anti-tobacco pamphlets, and correspondence.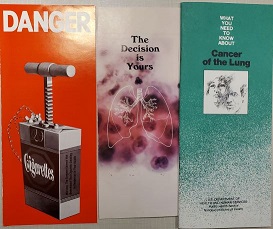 American Heart Association Records
The American Heart Association (AHA) is a nonprofit organization in the United States that funds cardiovascular medical research. The American Heart Association records documents the activism that took place in San Francisco and the Bay Area in restricting smoking in restaurants and lounges. The collection includes flyers, tobacco advertisements, videos (VHS), surveys, and correspondence. Some documents from this collection are from the CLASH organization addressing how big tobacco companies targeted the gay and lesbian community through their ads.
Tobacco Control Ephemera Collection
This collection is assembled from a number of different donations of ephemeral materials. Materials include pamphlets, posters, cigarette ads, and reports. Some of the cigarette ads in this collection are Kent and Chesterfield ads showcasing their milder cigarettes for women.
You can view the collection finding aids and other Tobacco Control Archive finding aids on the Online Archive of California. If you are interested in viewing digital collections from the Tobacco Control Archives or any of our other digital collections please visit the UC San Francisco page on Calisphere.