By Shannon Foley, Archives & Special Collections Intern
Brought to Light wants to bring attention to remarkable former UCSF faculty member Freeman Bradley. His significant contributions to the medical community and the Black community at UCSF deserve to be recognized. Bradley grew up in Alabama, and after high school, he continued his education at Howard University in Washington D.C., where he received his bachelor's degree in Biology. After his graduation, Bradley moved to Maryland and started working at the National Institute of Health, where he remained for four years before starting his career at UCSF. His position was with the Cardiovascular Research Institute, where he conducted research about respiratory changes associated with various anesthesias.
During his time at UCSF, Freeman Bradley worked as a technician to Dr. John Severinghaus and and Bradley's contributions were fundamental to Severinghaus's groundbreaking work. From 1957 to 1958, Dr. Severinghaus and Mr. Bradley combined technology created by Richard Stow and Leland Clark to create the first blood gas analysis system. Shortly after the first system was created, they were commercialized and proved revolutionary in health care. In Dr. Severinghaus's written account of his research and the evolution of the invention of the blood gas analysis system, he emphasizes how his and Mr. Bradley's invention changed medicine. By the 1960s they blood gas analysis systems were widely available, and and these tests provided essential information about a patient's illness.. These systems are still used today, and in 1985 Dr. Severinghaus donated the first apparatus he and Mr. Bradley worked on at the Smithsonian Museum. In 1977 after his research with Dr. Severinghaus, Mr. Bradley was appointed Director of Development and Research. In this position, he helped progress the technology and development of medical tools. One of the other advancements he made at his time at UCSF was in the transportation technology of newborn babies or neonates. His contributions to medical advancements do not go unnoticed.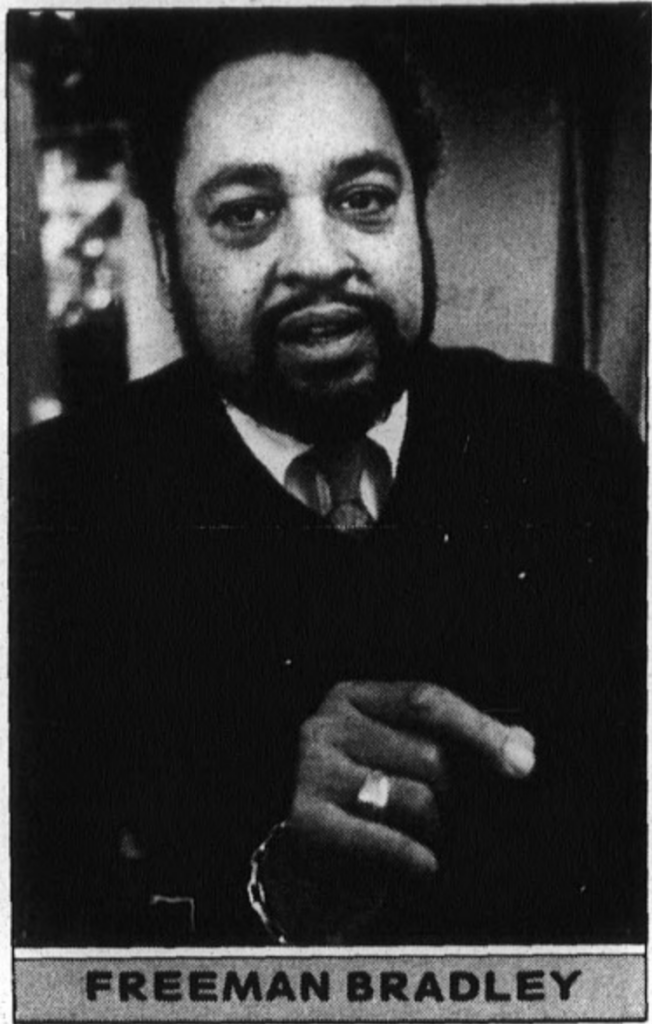 Image taken from SYNAPSE – THE UCSF STUDENT NEWSPAPER, VOLUME 27, NUMBER 19, 24 FEBRUARY 1983, https://synapse.library.ucsf.edu/?a=d&d=ucsf19830224-01.1.3.
Freeman Bradley was not only an incredible asset to advancing medical research, but he also was an active member in UCSF's Black Caucus. The Black Caucus is a club at UCSF whose mission statement is "The Black Caucus is a forum open to all Black-identified individuals and allies on this campus. Here they may openly express themselves regarding matters of race as they affect life on the campus and in the community. The Black Caucus serves as an instrument for the formation of a Black consensus on those racial matters that affect every person on this campus. This consensus will then be presented to the Administration for appropriate action." One of the founding members and President of the Black Caucus, David Johnson, worked to create this community where Black members of UCSF could have their needs and concerns met. During Freeman Bradley's time at UCSF and as an active member of the Black Caucus and used his calm temperament to make sure issues could be addressed and changes made. Mr. Bradley is quoted saying that even though he was criticized for staying diplomatic, he knew that it was the way to be more successful in the long run. In a 1983 interview of Mr. Bradley printed by Synapse, he shared his concerns with the lack of Black role models for youths in the sciences. He believes that minorities would be more likely to become a part of the medical field with more role models. Freeman Bradley is the perfect example of a role model to the youth and can be seen as an inspiration to all.
Works Cited:
"David Johnson, Freeman Bradley – Black Caucus Leaders." Synapse, Volume 27, Number 19, 24 February 1983, synapse.library.ucsf.edu/?a=d&d=ucsf19830224-01.1.3, accessed April 21, 2021.
Severinghaus, John W. "The Invention and Development of Blood Gas Analysis Apparatus." Anesthesiology, vol. 97, no. 1, 2002, pp. 253–256., doi:10.1097/00000542-200207000-00031, accessed April 21, 2021.