Carlton Benjamin Goodlett, PhD, MD (1914-1997) was a San Francisco newspaper publisher, civil rights leader and physician. He practiced medicine at Mount Zion Hospital (now known as UCSF Medical Center at Mount Zion) and at that time, was one of only three Black doctors in the city.
His 1997 obituary in Synapse, UCSF's student newspaper, enumerated his many accomplishments and commitment to social justice. Goodlett graduated magna cum laude from Howard University in 1935. At the age of 23 he received his doctorate in child psychology from the University of California, Berkeley, making him one of the first Black students to receive a PhD from the UC Berkeley Department of Psychology. He went on to receive his medical degree from Meharry Medical College in Nashville, Tennessee.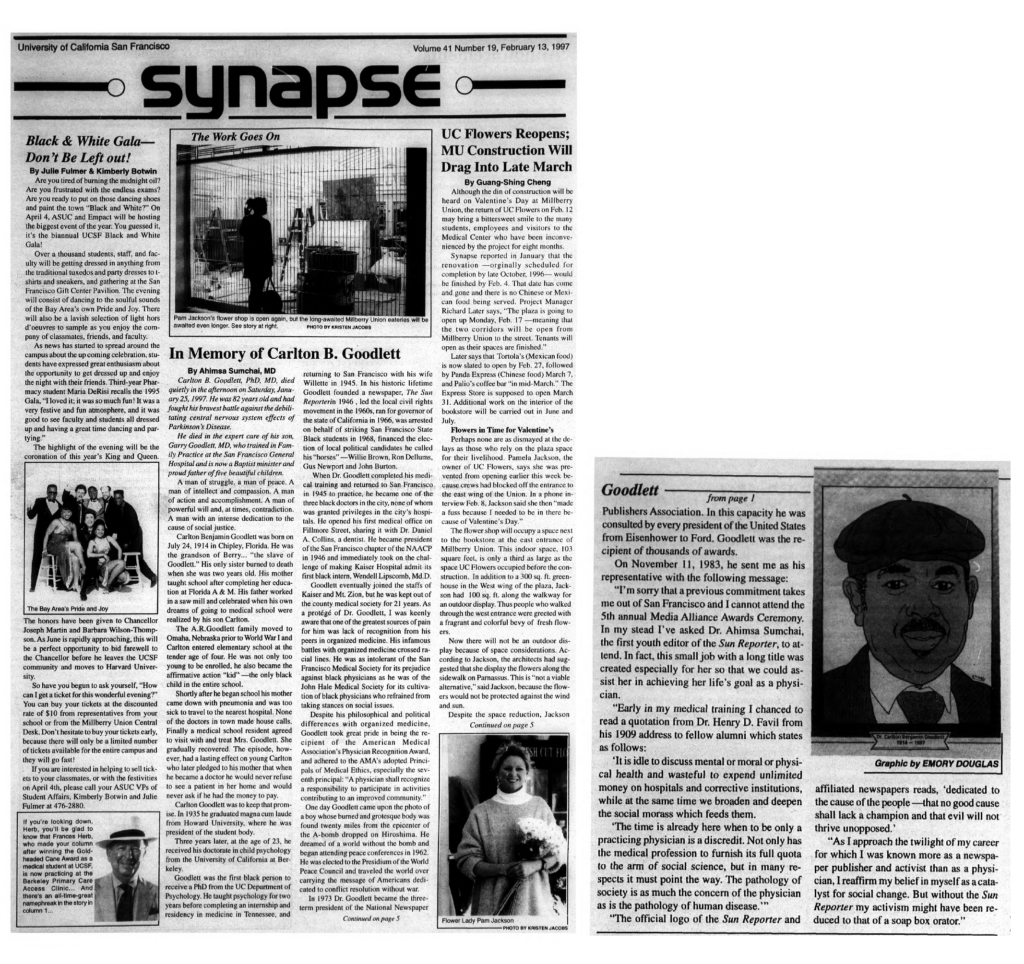 Goodlett's legacy includes leading boycotts of businesses that discriminated against people of color and participating in student protests at San Francisco State University. He was also a co-founder of the San Francisco Young Democrats. According to the San Francisco Chronicle, "Until the emergence of the Black Panther Party in the late 1960s, Goodlett was the dominant figure in San Francisco's civil rights movement in securing jobs for African Americans and appointments to important city commissions that blacks had never held."
Another notable element of the Synapse article is a featured a drawing of Dr. Goodlett by the American graphic artist Emory Douglas (b. 1943). Douglas was the minister of culture and revolutionary artist for the Black Panther Party. He designed the Party's newspaper, The Black Panther, and was responsible for the publication's iconic imagery.
For additional resources on Carlton B. Goodlett and Emory Douglas: