In the spirit of UCSF's 150th anniversary, a new addition to the archives has been made: the history of our very own Dr. Eddie Leong Way.   The addition is very much relevant to the anniversary, as Dr. Way himself has contributed much to the school's 150 years.  In fact, he makes up many of those years, himself.
Born in San Francisco, Dr. Way earned his bachelor's degree from UC Berkeley before going on to obtain his PhD in pharmaceutical chemistry from UCSF's very own School of Pharmacy.  However, his involvement with the school did not simply stop at his educational background.  Dr. Way worked as a professor at UCSF for years after his graduation, only retiring in 1987.  His career primarily focused on the development of physical dependence and tolerance of opiates.  It comes as no surprise, then, that such extensive work has contributed to creating a generally much more improved and deeper understanding of addiction.
Spending some days in the archives, I had the fascinating task of working through Dr. Way's time and work here at UCSF, from the beginning of his career to years after its official end.  As I leafed through pages and pictures, both brittle with age and sleek with freshness, I felt the pleasant weight of history at my fingertips.   Some of the files dated back to as early as 1939, and some as recent as 2008.
All sorts of documents made their way to the archives.  Several of his publications and publication listings; various correspondences with other faculty members and students; notes and slides from his own lectures; even invitations and party photos!  Work and play all mingle together in the collection to form the personal history of this astounding individual.  His files dictating his time and effort spent towards the betterment of the UCSF School of Pharmacy and even the world of pharmacy as a whole are now preserved in UCSF's extensive and detailed archives, where they shall most certainly remain safe and sound.
For more information please see the library catalog record and finding aid for the Way papers.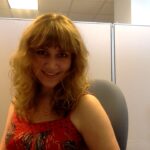 Alex Giacomini was born and raised in the San Francisco Bay Area. She is vastly interested in writing and the humanities, and is currently a communications intern in UCSF's School of Pharmacy.   Alex is a rising senior at UC Berkeley, where she is working to attain her Bachelor of Arts in English Literature.