We wanted to announce to all of you that a selection of our beloved treasures, here in the Archives & Special Collections, is featured in the UCSF Zazzle store. The online store allows you to purchase customizable note cards, tote bags, mugs, iPhone cases, water bottles and t-shirts that feature one-of-a-kind images from our collection.
Recently, we've added items that showcase pieces in the "Pharmacy and Pharmacists" exhibition of Japanese Woodblock Prints– currently on display in the  UCSF Library.
The online store also includes items with images from past exhibitions of the Japanese Woodblock Prints Collection. These represent a cross-section of the collection, featuring colorful ukiyo-e scenes on topics such as women's health, diet and nutrition, spirituality, views of foreigners, and traditional Chinese healing methods.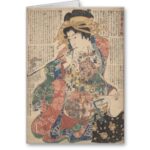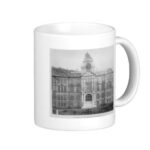 Items with historical UCSF photographs from the Photograph Collection are also available. Check out the fascinating views of campus from the turn of the twentieth century.