This is a guest post by Griffin Burgess, ZSFG Archivist.
In honor of Women's History Month and International Women's Day, we're recognizing Irene Pope, nurse and activist.
Irene Pope was born in Berkeley, CA and graduated from the UCSF School of Nursing in 1947. She worked as a nurse at UC Hospital for eighteen months, then continued her education at Western Reserve University in Cleveland, earning her master's degree. She returned to the UC as head nurse and later became the assistant director of nursing.
Pope came to San Francisco General Hospital in 1960 as director of nursing. She inherited an institution with constant nursing turnover and little to no high-level coordination of nursing activity. Pope transformed the nursing service into a functional, united group while also focusing on improving working conditions for nurses.
At the time, nurses at SFGH were paid very little compared to other San Francisco city workers and nurses around the country. Nurses had never gone on strike before in the U.S. and were in fact prohibited from striking, so in 1966, the SFGH nurses staged a "sickout." All staff nurses called in sick while Pope and other head nurses kept the hospital going. The sickout lasted three days and resulted in a 40 percent pay raise for the nursing staff.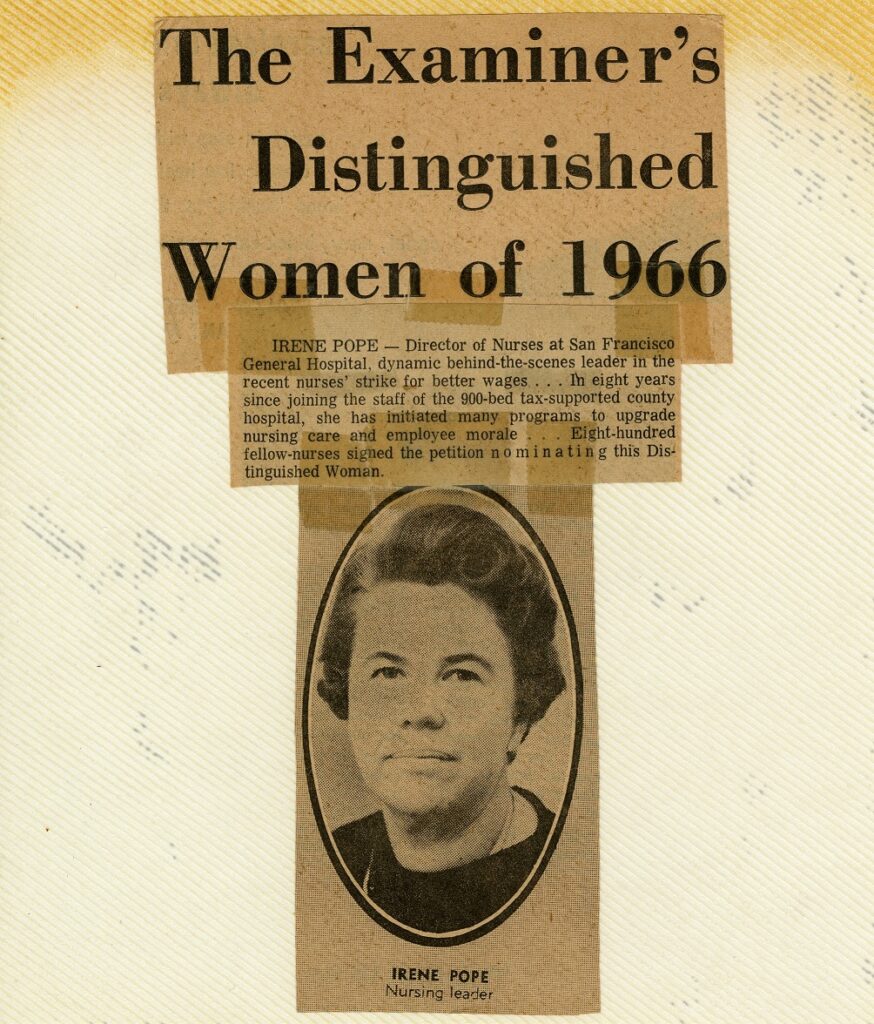 When asked about the sickout, Pope gave her full support and said, "we are interested in saving the profession, as well as seeking betterment for ourselves."
In 1971, Pope left SFGH to serve as president-elect and then president of the California Nurses Association, where she lobbied to pass the Nurses Practice Act, paving the way for nurse practitioners. Pope spent her career working tirelessly for nurses and the nursing profession as a whole, and her efforts have created lasting change at ZSFG and beyond.