Date: Tuesday, May 17th, 2016
Time: 12 pm – 1:15 pm
Lecturer: Aimee Medeiros, PhD (UCSF)
Location: Lange Room, 5th Floor, UCSF Library – Parnassus
530 Parnassus Ave, SF, CA 94143
This event is free and open to the public. Light refreshments will be provided.
REGISTRATION REQUIRED: http://calendars.library.ucsf.edu/event/2544252
Join UCSF Archives & Special Collections for an afternoon talk with author Aimee Medeiros as she discusses her book Heightened Expectations: The Rise of the Human Growth Hormone Industry in America.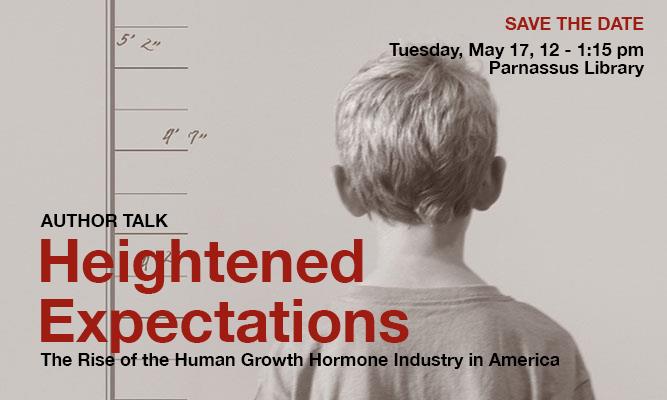 Heightened Expectations is a groundbreaking history that illuminates the foundations of the multibillion-dollar human growth hormone (HGH) industry. Drawing on medical and public health histories as well as on photography, film, music, prose, and other examples from popular culture, Aimee Medeiros tracks how the stigmatization of short stature in boys and growth hormone technology came together in the twentieth century. Historical materials from the UCSF Archives collection were used in the research for this book.
Aimee Medeiros is an assistant professor of the history of health sciences at the University of California, San Francisco.
About the UCSF Archives & Special Collections Lecture Series
UCSF Archives & Special Collections launched this lecture series to introduce a wider community to treasures and collections from its holdings, to provide an opportunity for researchers to discuss how they use this material, and to celebrate clinicians, scientists, and health care professionals who donated their papers to the archives.