The UCSF Industry Documents Library (IDL) is a division of the UCSF Archives.
The 'UCSF E-Cigarette Web Archive' is a resource created to assist researchers and the public in understanding the history of e-cigarette marketing on the Internet.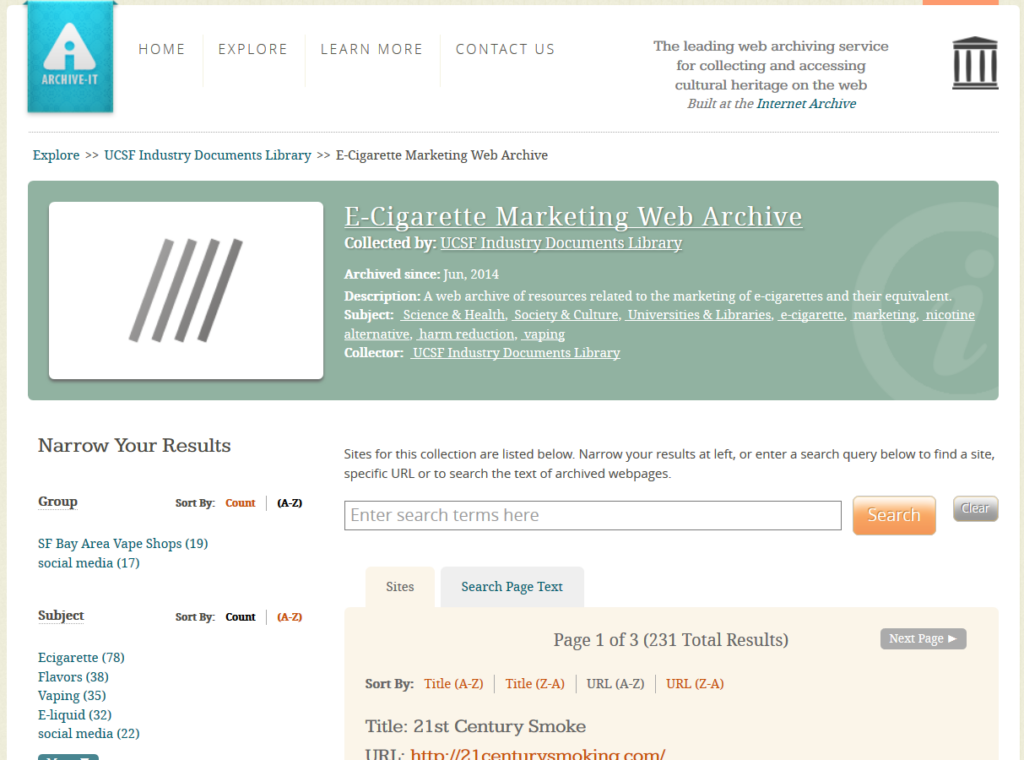 The UCSF Industry Documents Library primarily collects internal documents from industries and corporations that attempt to influence policy and regulations meant to protect public health.  In addition to our IDL holdings in tobacco, drug, and chemical industries, we capture and preserve websites and online multimedia resources that further demonstrate the actions of these large industries.  The rise of vaping and e-cigarette use over the last 10 years has undone some of the gains in tobacco control and youth smoking prevention won by the public health community.  The marketing tactics and messaging of the e-cigarette companies mirror that of the tobacco industry 20 years ago and the IDL is attempting to capture and preserve these campaigns for future research and analysis.
The UCSF E-Cigarette Marketing Web Archive utilizes the Archive-It service to crawl and preserve designated websites at selected points in time. The preserved sites range from major e-cigarette company websites, e-cigarette trade associations and advocacy groups, to forums and social media such as YouTube, Twitter and Facebook.
Preserving sites over a number of years allows researchers to see trends in advertising campaigns and marketing.  For instance, in 2014, Blu was urging users to Take Back your Freedom but in 2017, authenticity was the key with e-cigarettes helping you "Be Who you Truly Are".
These web archives provide an historical perspective on the evolution of e-cigarette marketing and continued captures will hopefully preserve the industry's shifts in language, imagery and tactics before and after any possible regulatory actions by jurisdictions.