Upcoming UCSF Digital Health Humanities programming includes new text analysis workshops in collaboration with the HathiTrust Research Center (HTRC) and the UCSF Data Science Initiative (DSI). These workshops will orient you to the digital health humanities research potential of content from the vast HathiTrust Digital Library and UCSF's Archives and Special Collections as well as common computational text analysis exploration approaches.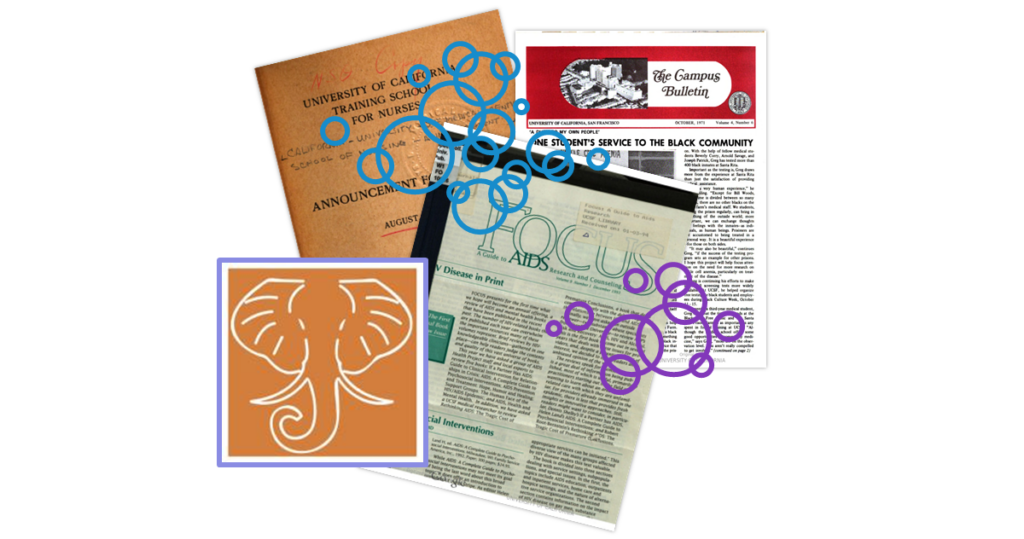 HathiTrust now includes more than 17.5 million digitized volumes from partner research library collections, including the University of California. Many of these volumes are useful for health humanities research, from documentation of institutional history, to government documents and published literature. Content from HathiTrust is made available for computational analysis primarily through HTRC tools and services.
HathiTrust Research Center Data and Tools for Digital Health Humanities: An Overview | May 19, 2023
On May 19, 2023 from 10 a.m. to 12 p.m. PT, join HTRC's Associate Director for Outreach & Education Janet Swatscheno, to learn about finding health-related resources in HathiTrust. The session will cover curating resources into collections, finding or establishing a textual corpus for your research, and tools for exploring and analyzing text as data.
Text Analysis for Digital Health Humanities: Using HTRC Data and Tools | May 26, 2023
On May 26, 2023 from 9 a.m. to 12 p.m. PT, DSI Instructor, Geoff Boushey is offering a companion workshop to the HathiTrust overview that will provide hands-on opportunities to learn and apply Python coding to conduct text analysis. The data will be derived from HathiTrust collection materials, including extracted features (metadata, derived text features, text as tokens) and full text from the publicly available UCSF University Publications collection, which documents histories of health sciences teaching, learning, and student activities from 1864 – 2009.
Jupyter Notebook Collection Data Exploration: No More Silence | June 2, 2023
Are you interested in familiarizing yourself with Python and using Jupyter Notebook to explore datasets? Join digital archivist, Charlie Macquarie, and DSI instructor Geoff Boushey on June 2, 2023 for a day-long novice-friendly workshop. They will guide you step-by-step through a data exploration notebook tailored to exploring a sample of the No More Silence dataset. You will get familiar with common data preparation and analysis tasks using Python. Research questions and attendant code will increasing in complexity throughout the session. This workshop is designed for learners who are new to computational textual analysis but have basic familiarity in Python programming concepts.
The No More Silence dataset represents materials from the AIDS History Project collections. The collections provide numerous opportunities to identify and contextualize how activists, journalists, researchers, and care providers responded to the epidemic and developed critical relationships.
Questions?
Please contact Digital Health Humanities Program Coordinator, Kathryn Stine, at kathryn.stine@ucsf.edu with questions about digital health humanities at UCSF. The UCSF DHH pilot is funded by the Academic Senate Chancellor's Fund via the Committee on Library and Scholarly Communication.