This week, we join the International Council on Archives and colleagues around the world in celebrating archives and their role in empowering knowledge societies. Against a pervasive backdrop of disinformation, manipulated facts, and extreme prejudice which has fostered such horrific pain and suffering in our world, we recognize the value of archives and all those who uphold truth, accountability, and justice.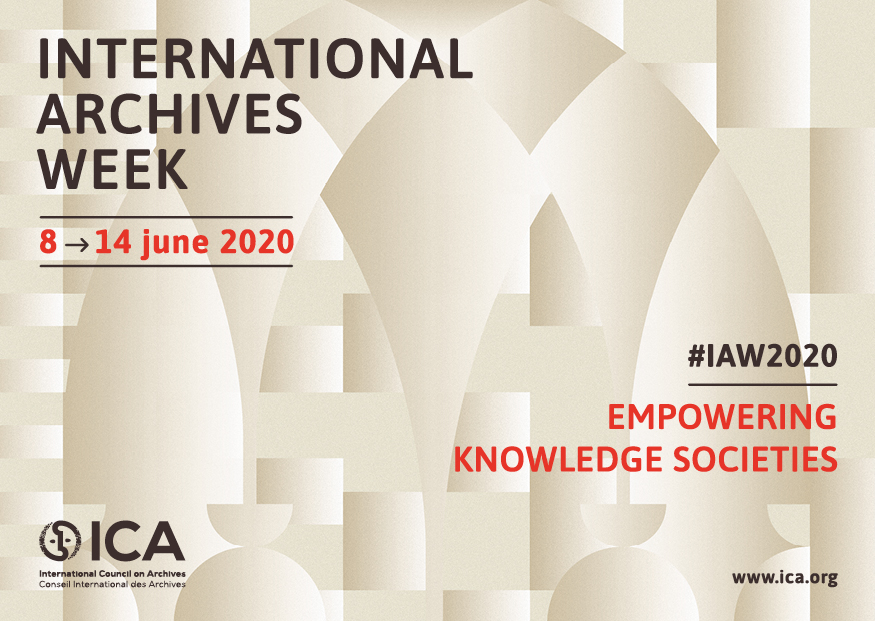 Archives perform an essential function as keepers of the records of evidence of human activities and experience. They directly encourage the creation of knowledge, the affirmation of the histories and identities of individuals and communities, and the transparency and accountability of government and other entities of power. Archives are not dusty enclaves of archaic knowledge for the privileged; they are living repositories of information which should reflect our societies, our decisions, and our lived experience. To celebrate archives is to celebrate a record of human progress, and to celebrate our collective ability to scrutinize and call out disparities and injustices embedded in that progress.
The theme of this year's International Archives Week is Empowering Knowledge Societies. The concept of a "knowledge society" emerged from work first attributed to the management theorist Peter Drucker in the 1960s, and by the 1990s was being defined and contrasted against the idea of an "information society" as the proliferation of technologies like the internet and World Wide Web increased the production and spread of data. A crucial difference is that an information society is one which simply creates and disseminates raw data, often relying on technological innovation; a knowledge society is one which can study and evaluate that data in context to create knowledge which informs action.
UNESCO declares that "knowledge societies must build on four pillars: freedom of expression; universal access to information and knowledge; respect for cultural and linguistic diversity; and quality education for all." These principles are echoed in the code of ethics of archives and library organizations, including the International Council on Archives, the Society of American Archivists, and the American Library Association.
Beyond our validation and promotion of these principles, archives and libraries must design our workflows and services to actively enable and empower these pillars of knowledge societies. Here at UCSF Archives & Special Collections, we strive to empower knowledge societies by providing open access to our collections, to the greatest extent possible, to all users, regardless of location or affiliation. We practice collection development which is aware and inclusive of diverse cultures and communities in the history of the health sciences, and we work to amplify voices which have historically been silenced or marginalized. We preserve evidence of harmful activities in industries which influence public health to enable researchers, policymakers, and members of the public to thoroughly investigate these sources and determine the best course of action to protect the health of our communities and our environment.
In 2005 UNESCO published a World Report titled Towards Knowledge Societies to lay out the global benefits of building knowledge societies, and the challenges many countries face in reaching that goal. The report emphasizes that "knowledge has not only become one of the keys to economic development; it also contributes to human development and individual empowerment. In this sense, knowledge is a source of power because it creates a capacity for action."
We continue to work towards empowering knowledge societies through archives, to enable the action that's urgently needed to address the systemic inequalities, racism, violence and injustice threatening the lives of people of color and the future of our communities worldwide. We are committed to building this capacity in partnership with and in awareness of the histories and experiences of all people, in respect and solidarity.