As you may remember, we've been going through the process of revamping our web-archives collections and services, and have been posting some updates as we go along. As we've written about on here before, in the Archives we periodically crawl and save copies of UCSF websites to document the institutional history and changing and developing public face of the University.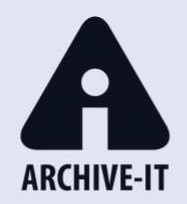 If you spend much time attempting to save and document websites, you quickly learn that things on the web change A LOT, and they change quickly — a lot more quickly than you might think, in fact. The average life of a website is only 100 days. Here in the Archives, we feel this most clearly as the speed with which our "URL Seed List" (the list of sites we're archiving) becomes out of date, and does not include important new campus websites.
We're in the middle of an ongoing project to try to better address these gaps in our collecting by manually updating our lists to reflect more centralized UCSF IT record-keeping, and by coordinating our efforts with the UCSF IT and Web-Governance groups to make sure we get at least one good copy of sites that are at "end of life." But there's more to this too, if you're a member of the UCSF community then we want to hear from YOU about what sites we should be collecting.
We're excited to announce that we've added a new section to our website where UCSF affiliates can submit a request to have their site captured and added to the archive, and/or have the url added to our seed list for ongoing capture. Just as with the physical archives, our collection is curated, so we cannot guarantee selection of your site for capture, but regardless we want to encourage you to submit far and wide!
We know there are many important UCSF-affiliated websites that we're not currently capturing, and so we'd love to expand our collections to better reflect the rich institutional life of this dynamic and diverse community of researchers and clinical practitioners. So if you're in charge of a website that we should be capturing, submit a request to us today!
Submit requests here: https://www.library.ucsf.edu/archives/ucsf/web/