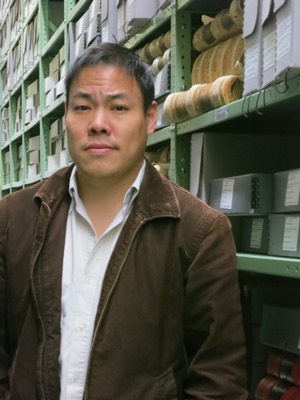 Please join me in welcoming our new volunteer, Henry Mac. He was born and still resides in San Francisco. Currently, he is in his last year of studies for the Master of Library and Information Science degree with concentration in Archival Science at San Jose State University, School of Library and Information Science. Henry holds a bachelor's degree in History from San Francisco State University. Henry has a very busy work schedule: he is an Archives Intern (Pathways Program) at the National Archives and Records Administration (NARA) at San Francisco and also an employee of several city libraries including San Francisco Public and San Mateo Public Library in the circulation department. In the last few years he conducted archival project work for the National Park Service at Yellowstone National Park and interned for the SFO Museum's registration department.
His main objective for the UCSF volunteer internship is to gain on the job experience through project work and learn new techniques and processes from experienced archival staff. This position will allow him to gain exposure to the inner workings of an academic archive. In his application Henry mentioned that he "hopes to aid the staff in unearthing historical information that can be valuable to students, faculty and researchers at UCSF."
When not at school or work, Henry likes to travel and collect antique furniture.
Henry will continue the project started by a previous intern and work on the inventory of biographical files. He will also process smaller collections and assist with digitization of images and documents chronicling the history of UCSF.